Pixel Ores, Bars and Tools [16x16px]
A downloadable asset pack
Get this asset pack and 19 more for $5.00 USD
View bundle
Pack includes sprite of ores, bars and tools. Includes 6 different colors.
Pack includes ores on the rock, mined ores, bars, tools such as pickaxe, axe, shovel and weapons such as short sword, long sword.
You can see how the sprite sheet looks like below: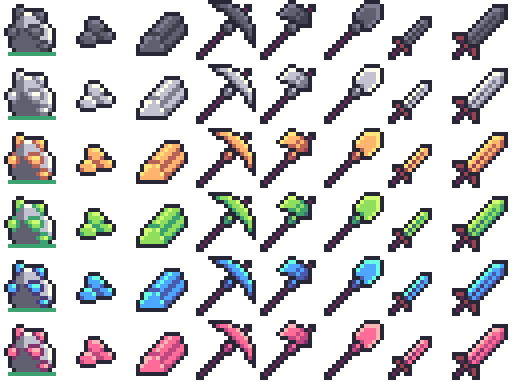 Examples of the names for ores:
black: coal, magnetite, obsidian
white: iron, silver, steel
yellow: gold, uranium
green: malachite, emerald
blue: lazurite, cobalt, crystal
pink: quartz, dolomite
I used colors only from pear36 color palette.
Update!!!
I created two more sprite sheets, one with more colors (objects are more detailed) and one more sprite with all ores, bars and tools in different shapes. To acquire these two new sprites you need to pay 1 dollar more for the pack.
You can see new sprite sheets below! c:
More detailed objects (more colors)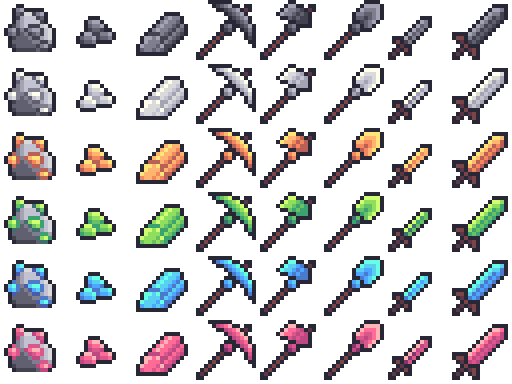 Each object has unique shape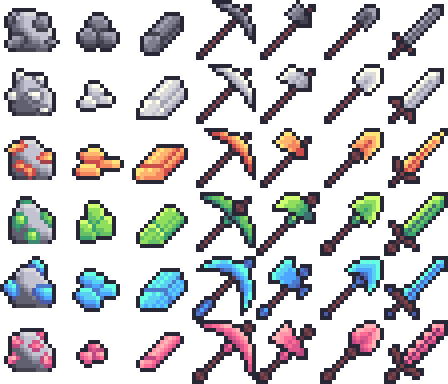 Feel free to use this assets pack for whatever project. You can credit me but you don't have to. Enjoy!!

Purchase
Get this asset pack and 19 more for $5.00 USD
View bundle
In order to download this asset pack you must purchase it at or above the minimum price of $1.40 USD. You will get access to the following files:
tools_simple_by_Brysia.png
tools_unique_by_Brysia.png
5 kB
if you pay $2.10 USD or more
tools_detailed_by_Brysia.png
5 kB
if you pay $2.10 USD or more